GLENN SCOTT
Having worked as a full-time musician in a time where that wasn't such an uncommon career, Glenn Scott has written scores for films and documentaries, produced award winning albums, and toured extensively around Australia as part of various bands over the years. After a stint as a flower farmer, Glenn returned to the music industry in 2007 to partner up with Dan Corless in creating what has now evolved into Wick Studios. Aside from his stint working with his hands in the dirt, Glenn has been getting his hands dirty across almost every aspect of the Australian music industry for over 20 years.
Glenn is a compulsive thumb twiddler, incense enthusiast, and can often be found critiquing the neighbour's gardening choices.

---
DAN CORLESS
After falling into audio engineering by accident, Dan has spent the better part of the past fifteen years behind the mixing desk in various institutions, from beloved sticky-carpet venues of inner city Melbourne, to international arenas. Frequently sought after to mix for large-scale festivals and touring overseas, Dan still calls Wick Studios home.
Dan is our resident wannabe barista, and can't think of a single food he doesn't like.

---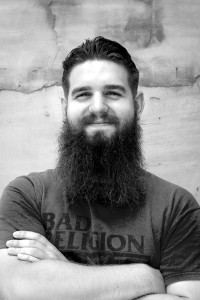 MARCUS HANSEN
A familiar face in the rehearsal studio, Marcus joined the Wick team in 2010 while he was studying film and literature at university. His previous experience was in stage craft and lighting design. As he says, "Wick Studios became my favourite place to work and favourite place to hang out!" No stranger to the needs of bands, Marcus has played in bands of numerous genres since he was a teenager. Marcus is the Facilities Manager of Wick Studios, and is the first port of call for any and all rehearsals enquiries.
If you're ever lost, Marcus can give directions in Japanese, and also knows how to play harmonica with his nose.

---
NELLI HUIE
Having grown up in the entertainment industry, photographer and media/PR all-rounder Nelli joined the Wick Studios team in 2014. She brings a solid knowledge of all aspects of life as an independent musician and performer in Australia: onstage, backstage, and in the studio. A previous veteran client of Wick Rehearsals, Nelli has seen the studios and team evolve from a humble rehearsal space into the music industry hub it is today. Her position includes managing our dual purpose photographic and video studio Wick Media, as well as all media and PR for Wick Studios as a whole.
Nelli enjoys Vietnamese food, has a diploma in Australian Sign Language, and has a scar on her face in the shape of a whale tail.